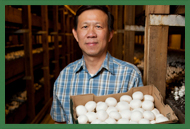 A Message from the President
A sincere thanks to you:
For over 20 years my family and I have taken pride in producing some of the finest quality mushrooms grown in British Columbia.
We live and farm here in the beautiful Fraser Valley, more than 10,000 acres of rich agricultural land. Our mushrooms are harvested daily and I personally inspect all aspects of production-from the on-site facilities, to the picking, grading and shipping-all the way to your local grocery store.
I am committed to offering my customers a quality product, exceptional customer service and a consistent supply of some of the freshest produce in the province.
Sincerely,

Tan Truong